How to I use Link Retargeting to Increase Conversions?
If you have a group of users that know about your brand and your products and are STILL not converting, don't fret - we are here to help! With targeted content, highly-segmented audiences and repeat exposure on high authority sites, RetargetLinks helps you increase conversion rates.

Here are some tips from our most successful customers:
1) Have a clear call-to-action: It is important to have a clear and defined call to action in your ads. When the user sees your ad, what should they do? Make sure you provide a direct answer to that question. Here is a great example from one of our clients, Sheraton Wall Centre:
As you can see, they have a clear button with a direct call-to-action to 'Book Now'.
2) Have your ad as a reminder, not an introduction: It is important to remember that everyone that is seeing your ads knows about your brand. This means that they know who you are and don't need an ad for introducing your brand again. They need an ad that provides an incentive for them to convert. Don't waste this valuable opportunity to educate, but to drive sales. Here is a great example from Cisco (not our client - yet, right Cisco?) that we love.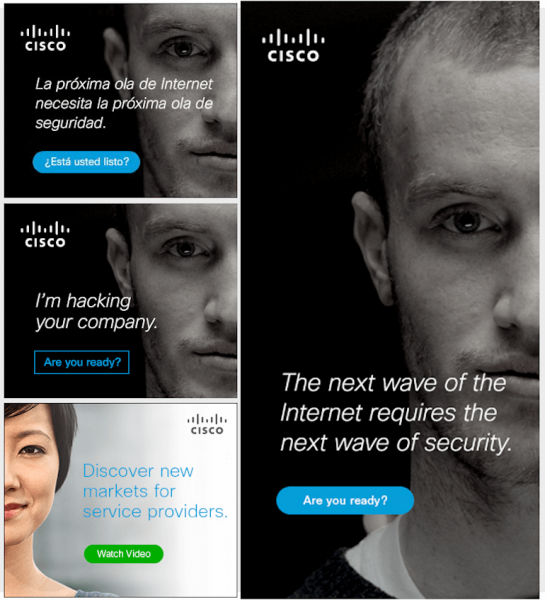 Our favourite one is the second from the top (on the left hand side) where they talk about the true danger of not having a secure online system - a realistic scenario and a strong incentive for a user to click on the ad and find out more.


If you are keen on seeing more awesome examples, check out this blog post from one of our partners, Bannersnack on 27 Brilliant Banner Ads Examples from Tech Industry.
3) Have a dedicated landing page: When a user clicks on your ad, they will navigate to a webpage. This webpage needs to look reputable, trustworthy and needs to have only the relevant information necessary to complete the call-to-action. Whether an Amazon product page, your own website or just a webpage hosted via Unbounce, it is crucial that this be thought about before launching your campaign! Here is a great example the Sheraton Wall Centre again. The ad encourages the user to book a room with the Sheraton Wall Centre and then navigates the user to the page below:
The landing page provides a form to book a room right away at the top of the page. Following that, there is relevant information to aid conversion including testimonials, promotions and articles. Finally, the page finishes with another direct call to action to book a room at the Sheraton Wall Centre. These are all well known tactics to create a well-performing landing page. 
Looking for more tips? Here is a resource with the best tips for high performing landing pages from the leading provider of landing pages, Unbounce: https://unbounce.com/101-landing-page-optimization-tips/
Not at this stage yet and looking to grow your funnel? Check out this article: I Want To Get More Link Clicks: What Do I Do?
We hope this article was helpful in providing insight on where and how RetargetLinks can integrate into and boost your current marketing strategy.
While these are just some tips and tricks from our best performing clients, we have a bunch more in the roster. If you have a niche market and want more personalized information on how to create an efficient marketing campaign for your product, feel free to shoot us an email at hello@retargetlinks.com for a free 1:1 session!